UNDER 17: BOSNIA & HERZEGOVINA v WALES
Wales squad : Wed 21 Aug 19 : Refresh for updates

Fixtures and Results
Bosnia-Herzegovina 2 Wales 0 : Tue 3 Sep 19 : kick off 16:00 : Mladost Stadium, Doboj-Kakanj.

Under 17s: BIH 2 Wales 0 [ Read more... ].
Video [ Read more ... ]

Bosnia-Herzegovina 1 Wales 0 :
Thu 5 Sep 19 : kick off 16:00 : Mladost Stadium, Doboj-Kakanj.
Video [ Read more ... ].

Report [ Read more... ]

---


Manager: Richard Williams.
Assistant: Gareth Davies.

Wales squad
Max Williams (Salford City)
Ben Coley (Cardiff)
Harvey Miles (Swansea City)
Keelan Williams (Liverpool)
Matthew Baker (Gillingham)
Jay Williams (Fulham)
Owen Bevan (Bournemouth)
Cian Williams (Wrexham)
Ollie Ewing (Leicester)
Marcus Dackers (Brighton)
Joe Porton (Bristol City)
Taylor Jones (Cardiff)
Patrick Jones (Wrexham)
Ryan Viggars (Sheffield United)
Robson Shipley (Huddersfield)
Omar Taylor-Clarke (Bristol City)
Charlie Savage (Manchester United)
Liam Higgins (Everton)
Joshua Edwards (Swansea)
Jacob Edwards (Swansea).

source twitter

out from original squad
Harry Jones (Arsenal)
James Sweet-Lanin (Arsenal)
Jaden Raymond (Crystal Palace) - England U17 squad selecion 30 Aug 19.

earlier
Wales U17s will take on Bosnia (Away) next month
2 matches Tue 3 Sep 19 and Thu 5 Sep 19.
Matches in preparation for the UEFA matches in October.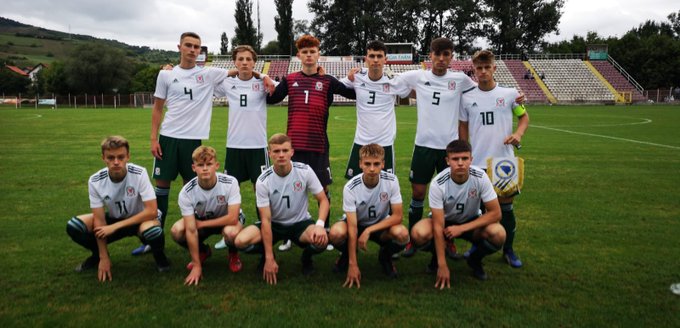 [photo embedded from dailystar ]

Free Bets UK - https://BigBets.co.uk

Lucky Admiral - huge collection of mobile casino games - https://www.luckyadmiral.com/

Get your £2 no deposit free bet! - https://betfreebets.uk
Comments (0)
Posted: Wednesday 21st August 2019