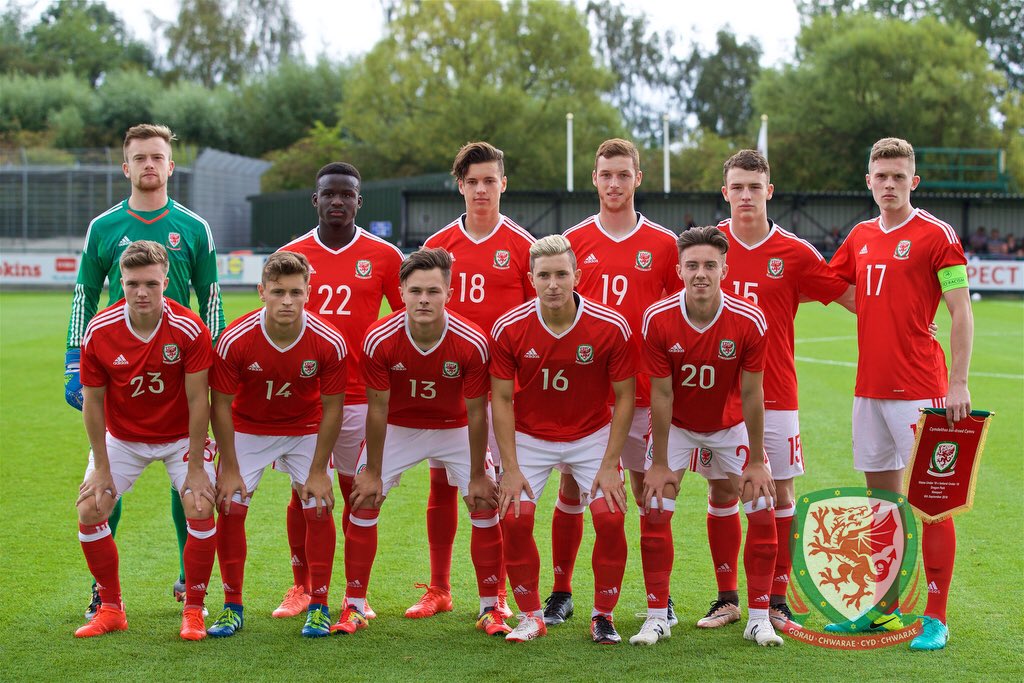 Young Guns by John Jones.

Rhys Abbruzzese (Cardiff City)
As a schoolboy international player and then a scholar at Cardiff progress for Rhys seemed to be on a very fast upward track. Those of us who tend to project forward about what may happen in the football world and concerning Welsh players in particular, had thoughts that he could possibly play in the Cardiff first team at a relatively young age. This did not materialize as imagined, as there was a punctuation in this perceived trajectory, an answer cannot be provided as a reasoning but injury is one of the high probability candidates, although it could also be one or more of numerous others. Such set backs are far from uncommon in the life of a professional footballer, or any other sportsperson for that matter, the ability to adjust and overcome tends to characterize those who are generally the most successful. It is good to see that of late Rhys has been a regular member of the Cardiff City U-23 side and may be on course to regaining the momentum of earlier years. He is of course still very much a young man, this being his first season as a full time professional and time is still on his side for much to be achieved through the dedication and determination that I am sure he possesses. I look forward to providing continuing versions of young guns for as long as I am able and hope that there are numerous occasions when Rhys is included.

Owen Evans (Wigan Athletic)
Back at his parent club after being loaned for the first half of the season, Owen gained some non playing first team experience when on the bench for a few games recently. Welsh Premier League club Rhyl was the team that benefited by securing his loan service earlier in the season and he impressed with some good goalkeeping displays during his score of appearances with them. He will certainly be a candidate for inclusion in the Wales U-21 squad next season as they begin a new European qualifying campaign. Prior to that time will be a participation by a Welsh U-20 team in the summer Toulon tournament and I have not determined what the criterion for team selection entails. If the FIFA/EUFA classification is applied, then the team will consist of '97 birth year and younger players. If so, this would rule out Owen's eligibility but as mentioned, I do not know the rules that are in place. From what I have seen on information on previous tournaments, some participating teams have been classified as U-21 and so the organizers may allow some latitude for the national associations to decide what best suits their needs.

Elliott Hewitt (Notts County)
Elliott has not seemingly had the sort of season that would have been his preference, as he has not been involved in as many matches as he was last season. Having been only a few appearances short of being an ever present in the side in 2015/16, it has been a slightly different story this term. It may possibly have been injury that contributed to a disruptive trend and though there is a noticeable difference, it should also be mentioned that he has been on the field for about three quarters of Notts County's first team games, a further quarter of that amount being in a substitute role. What can be considered a feather in his cap, is that though the large majority of his Football League appearances have been as a right wing back along with some in a midfield role, he has played in a central defensive position on numerous occasions in his time at Meadow Lane. This versatility does give an indication that he possesses adaptability as well as good ability and competence that are essential to become a professional football player, though some past examples for those of this ilk have found it to be a mixed blessing for their career progression. It could well be that it is a nervous time at present for Elliott with his contract needing a renewal offer for him to stay with the club beyond the end of this season. With the team having been at the lower end of the table for much of the season and though by now lessened considerably, the threat of relegation has loomed large for club management. It is very unlikely in this scenario that playing personnel decisions for next season have been at the forefront of their thoughts and so most likely to be still pending. Though at best this can only be described as a guess, there will surely be clubs interested in acquiring his services. Much will probably depend on how Elliott envisions his future and we wish him the very best in whatever endeavour he chooses to pursue.

Robert Page
Though his own days as a young gun are in the past, Robert will be an important person in the life of many present and future Welsh young guns. Firstly, I will take this opportunity in congratulating Robert on his appointment as well as the leaders at the FAW who, by the positive comments I have noticed, seem to have made a wise selection with this decision. There can be little doubt that he was certainly a passionate and committed Welshman on the playing field and judging by the comments attributed to him and his excellent coaching credentials will be striving to give Wales teams every advantage possible in competitions. There will certainly be an amount of excitement in being involved with some very talented young men but this will also be tempered with having the responsibility of not only helping hone their skills in the present but also aid in their development toward hopefully becoming accomplished senior international players. Undoubtedly, there has been continued improvement for the Wales under age teams over the last good number of years as the U-17 and U-19's often progressed to the elite rounds of their qualifying competitions. Neither side has made it to the finals of their competition and it is likewise for the U21's, although there has been good improvement in their competitiveness. The challenge now is to get some, preferably all of these teams, into a finals competition. It is a very high aim which will be a very difficult situation to achieve but I am sure it is one that Robert relishes and he will provide excellent leadership for the young men who will try and assist in the quest.

Tyler Roberts (West Bromwich Albion – on loan at Shrewsbury Town)
Just a few words of acknowledgement at Tyler's decision of commitment to a Welsh international future. Assuredly, this has removed the possibility of future questioning comments and created a feeling of relief and much delight in the minds of Welsh fans.