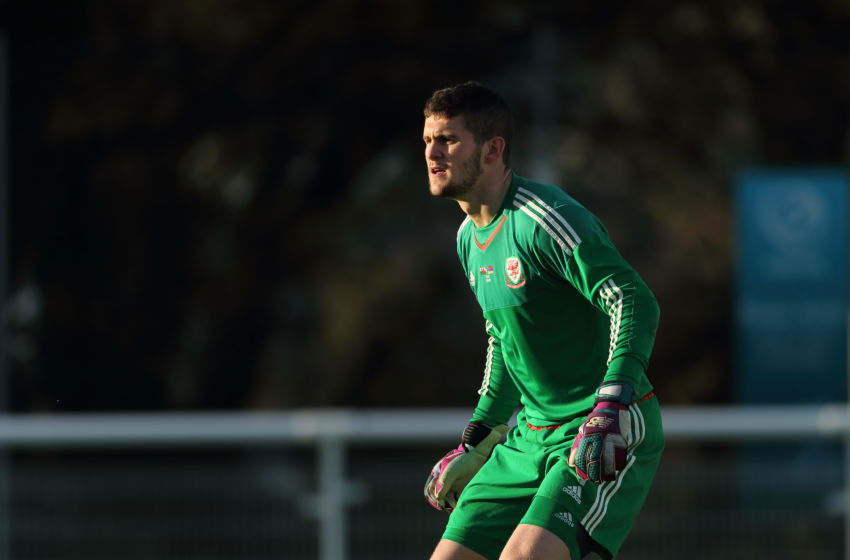 Young Guns by John Jones.

Arlen Birch (Burnley)
Presently captain of the Burnley U-23 team, Arlen was initially a schoolboy with Everton and then as a scholar was a regular member of their youth team at which time he also gained England U-18 international honours. I was slightly surprised that he did not remain at the club beyond his youth days and it is only very recently that I discovered that he had in fact moved on to Burnley and is now in his second season at Turf Moor after a successful trial period there. I imagine you may be wandering why I am mentioning an English youth international, I did however discover during his time with Everton that he was in fact born in Wrexham. I had seen his name included in a Wales squad at one time, I'm not exactly sure but I think it was for a schoolboy training camp. I did not know his birthplace at that time but presumed that there had to be some link to Welsh eligibility. I am guessing that he quite possibly grew up in the Merseyside area or had a very strong link to that area, making him feel more English than Welsh. He would not be the first footballer to have made that decision if it was so and in those instances for those with options of dual or maybe even more eligibility it is probably a very tough decision for some. The rules do allow for a decision change to be made in some circumstances and as Arlen is a '96 birth year young man, is therefore a candidate for the Wales U-21 team in their next qualifying campaign should he be interested and selected.

Charley Edge (Colchester United)
It is a week for admission of finally catching up with another player that I had not been aware of his situation since the summer of 2015 as was the case for Arlen. Coincidentally, Charley was with Everton as a schoolboy and youth and was also not retained after this time. I have now found out that he was signed by Colchester and has been part of their development squad since that time. He must have made good progress as he has worked his way to become a member of the first team match-day squad for their last 3 games. He has been on the bench in each of them, but has made his Football League debut when he came on for the last few minutes of their midweek match against Crawley. Congratulations to him for that achievement and hopefully he can continue in a positive manner. He will be celebrating his 20th birthday in a couple of months and having played for the Wales schoolboy team in the 2012/13 season and for the U-17's the following one will now probably be hopeful of further honours with the U-20 squad for the Toulon tournament in the summer.

Billy O'Brien (Manchester City – on loan at Saint Mirren)
Billy is making the most of the loan arrangement that has taken him to Paisley and is gathering first team experience as he has produced some good displays in his performances for the Buddies. His latest appearance for them was in fact against the premier of the Premier in Welsh football terms. It was against TNS in the semi-final of the IRN-BRU Challenge Cup and he pulled off important saves that helped his team to eventual victory. A few congratulatory words are offered to recognize the achievement of TNS in doing so well in that competition and but for some unfortunate circumstances were maybe closer to an appearance in the final than the eventual winning score suggests. Yes, as alluded to previously, they are some way ahead of the other Welsh Premier teams, but if I understand correctly there is an effort to at least narrow the gap by the others. This should improve the chance of some more success in early rounds of European club competitions, producing extra funding if achieved. Pardon my digressing from the main intent of what I try to provide, some amount of relevance can be perhaps be placed in the perception I have that there is increased attention to the academy systems at these clubs. The development and application of coaching techniques for regional and ultimately national schoolboy football has seemingly improved the quality of those young players in recent years. Though the most talented are admittedly recruited by larger clubs, there is still some untapped potential available and it gives an avenue for some of the later developers in the game. I could maybe add a little more but run the risk of repetitiveness if I did, so will move on. Moving back to a bit more about Billy, there will surely be an interest in securing his services by other clubs in the future now he has proven his capability, how that transpires will likely be discussed in months ahead. It does look as though in future seasons he could become a candidate that will be in the minds of those selecting the squad for the Wales senior team matches.

Connor Roberts (Swansea City)
It is something of a mystery to those of us looking from the outside and so lacking in knowledge of relevant circumstances, as to why Connor has experienced so little first team football this season. Once again performing well for the Swansea U-23 team as he did in the early part of the season, the intervening loan period at Bristol Rovers was seemingly not as successful as one may have expected. Having had such plaudits for his performances last season and his subsequent involvement with the Swansea first team squad in pre-season, it did seem an ideal opportunity for gaining further first team experience. For some reason, it did not work out that way with only a small amount of it during those weeks. The Swansea U-23 team has had good success so far this season and as a consequence find themselves with quite a few challenging matches to face in the coming weeks. Having Connor as part of the team will be of benefit and conversely it will be good experience for him to be playing against such opponents. I am unable to add any further meaningful comments and will close by wishing he and Swansea the best of fortune for the future.